Yoga Teacher Training Goa
If you are looking to deepen your practice and sharpen your teaching skills with us at Mahi Yoga, then Yoga Teacher Training Goa offers a relaxed paradise of sun, sea and yoga. Yoga teacher training Goa is an opportunity to both nurture and connect with the philosophy of yoga and to reach out and be a part of a network of yogis from all around the world.
About Goa
Goa is a tropical beach destination, world famous for its natural beauty. It is possible to walk for miles along Goa's long sandy beaches which hug a coastline of shady palm trees, coconuts and brilliantly blue water. Goa boasts a cultural blend of Portuguese and Sothern Indian heritage which dates back to its Portugese colony era. There is an unusual mix of white ornate churches, colorful spice plantations and sweet traditional fishing villages. There is plenty to see if you are interested in history or art.
Old Goa, Arambol Town & The Whispering Lake Resort
Goa's capital is just an hour away by taxi and it hosts big art galleries that show local and international exhibitions as well as plenty of cultural and art festivals throughout the year. The city also has many beautiful churches. 'Old Goa' even has a famous pilgrimage site St. Xavier's church. Then you have the local markets which are famous for both their portugeuse influenced food and cakes and their indian sweets and southern dishes.
Yoga Teacher Training Goa is located in South West India on the Arabian Sea in the small and famous beach town Arambol. Arambol town is an eclectic mix and lively vibe. There are many famous studios and music venues hosting famous yogis, healers, musicians and performers from all over the world. There are many courses and gatherings on offer. There really is something for everyone here. The beach front runs for miles and there is a chance to find a quiet spot or place yourself directly in the excitement of watersports, circus skills or beach side yoga. Every evening at its center Arambol beach hosts a hippy market full of crafts, arts and performers. People come for miles to enjoy an evening walk on the beach, celebrity spot, and watch the heart melting sun sets. Then, as the sun disappears beyond the horizon the nightly drum circle begins (a free event where everyone is welcome to join in and drum or dance) people emerse themselves in the beat with their bare feet in the sand.
Mahi Yoga Teacher Training Goa center itself, is located on the edge of Arambol. Our center is tucked away in the countryside at The Whispering Lakes Resort. The resort is arranged around a lake and is the perfect place to watch the nature and the multitude of Goan and migrating birds which visit to catch fish or stop off for the winter. All the lodges and the yoga shala have a lakeside view. The beach is just five minutes walk through the nature and the town just 20 minutes by beach. So the resort itself offers the perfect balance between peace, nature and vibrant culture.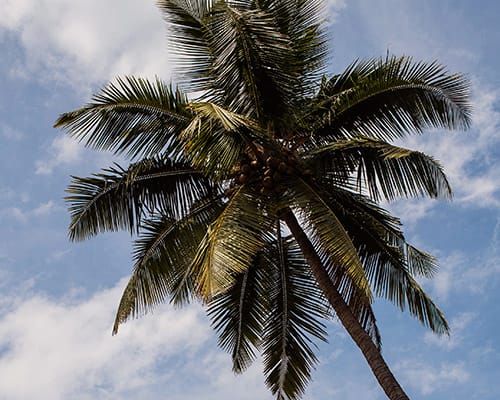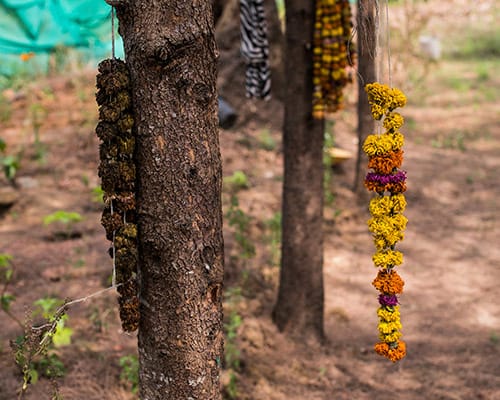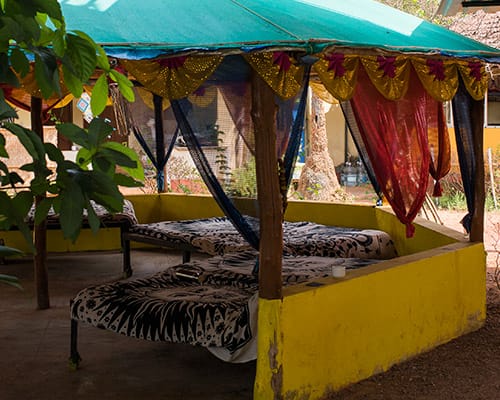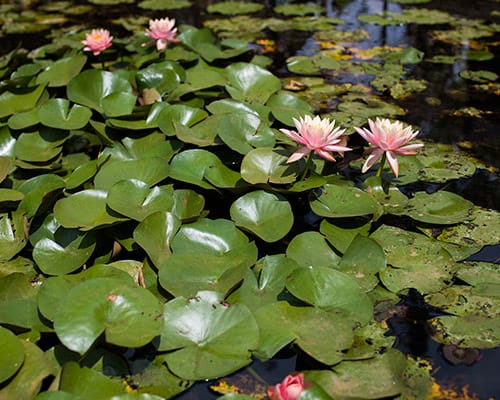 Whispering Lakes is a closed campus resort. Students will be accommodated here in our lakeside lodges, and meals are served on site. At Mahi Yoga Teacher Training Goa we have a large airy lake view yoga shala (studio). The studio us also on site at the beautiful Whispering Lakes and is fitted out with all manner of yoga props. The main studio can hold 25-30 people with plenty of room. Both studios are quiet and peaceful and look out onto the lakes where you are able to see the migrating birds flying and fishing. The dining hall and relaxing area are also located onsite at the lakes resort for students to relax, chat or study. Wifi is available in the relaxing area.
Our resort at Yoga Teacher Training Goa has its own cafeteria only for the use of students and teachers. Our food is exceptionally hygienic. Our Chefs prepare Southern Indian, vegetarian yogic meals. All meals are nutritionally designed to provide our students with all their body needs as well as instill healthy eating habits. Wherever possible we provide locally sourced and organic food. Food is served on site in the dining area at our main shala at Yoga Teacher Training Goa.
At Yoga Teacher Training Goa rooms are spacious and comfortable and located at the resort. We offer superior lakeside lodges which are well equipped and very clean, for our students participating in our Yoga teacher training in Goa. The rooms are available on a shared basis of two students or even, a couple. The lodges have a massive private entrance to sit and just relax overlooking the lake. The shelters have an attached and private bathroom with hot water and western toilet.
.
Shops, Internet Cafes, Travel Agencies & Money Exchange
There are small shops and restaurants within 5 minutes walk both on the road and on the beach front. Arambol town is 20 minutes walk across the beach, there are many local shops where aspirants can buy snacks, fruits, vegetables, natural foods, Ayurveda herbs and other all essential items. There are several internet cafes and travel service providers who can help to exchange foreign money or offer you cash on swiping your credit card, the ATM is also located in the town.
ATHire Bikes, Auto Rickshaws & Taxicabs
There are ample scooters, motor bikes, rickshaws and taxis available for rental. Students can walk to town within 20 minutes. It is a very safe area and students don't experience any hassle, but may choose to travel by rickshaw or taxi as it is convenient.