100 HOUR YIN YOGA TEACHER TRAINING WITH MAHI YOGA SCHOOL
Dive deep into the subtle realms of Yin Yoga with this 100hour Yin Yoga Teacher Training program. Experience the quiet meditative moments and benefits of Yin Yoga.
Let our highly qualified Yoga Teachers enhance your understanding of all things Yin Yoga. You will be able to guide your own students through every aspect of this ethereal practice.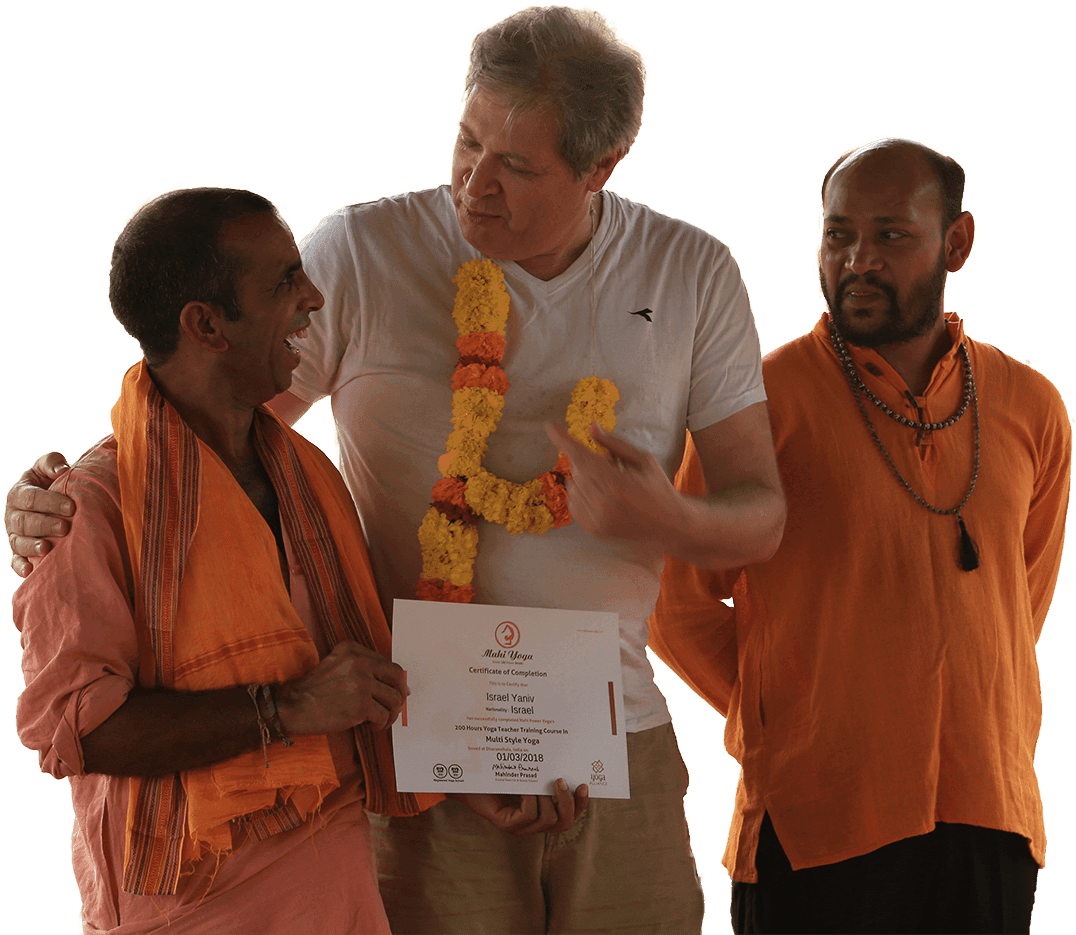 100 HOUR YIN YOGA TEACHER TRAINING IN DHARAMSHALA:
Take yourself on a journey into the subtle realms of Yin Yoga with this 100hour Yin Yoga Teacher Training program in Dharamshala, India.
Experience the quiet meditative moments and benefits of Yin Yoga surrounded by the Himalayan mountains.
Let our highly qualified Yoga Teachers enhance your understanding of all things Yin Yoga.
You will be able to guide your own students through every aspect of this ethereal practice.
UPCOMING 100 HOURS YIN YOGA TEACHER TRAINING IN DHARAMSHALA INDIA
| Dates | Twin Sharing | Private | Couple | Apply Now |
| --- | --- | --- | --- | --- |
| 24 April to 3 May 2020 | 680 EUR | 720 EUR | 1400 EUR | Appy Now |
| 25 May to 3 June 2020 | 680 EUR | 720 EUR | 1400 EUR | Appy Now |
ABOUT OUR YIN YOGA TEACHER TRAINING
This training has been carefully crafted by blending the Ancient Eastern sciences that came out of India and China along with modern, ethical and practical teaching techniques.
We have created a total immersion training where you can learn through experience.
Our Yin Yoga Teacher Training combines a highly practical approach to theory including plenty of guided practice and hands on teaching experience.
TIME TO FOCUS ON YOUR SELF:
Yin Yoga focuses on bringing an attentive yet subtle awareness through the deep tissues of the body. By mastering this technique yourself, not only will you feel revived and fabulous; but you will experience your physical and subtle bodies in a new way.
SHARING YIN YOGA FROM A PLACE OF AUTHENTICITY
From a place of understanding you will be able to teach authentically. Our teachers deliver the curriculum through a combination of practical theory classes, workshops and guided practice. You will develop your understanding and teaching intuitively as our teaches guide you skilfully through a transformative learning experience. Finally combined all of this understanding, we provide our students with plenty of direct teaching and feedback experience.
Before you know it, you will confidently understand and teach Yin Yoga.
COURSE STRUCTURE
This Training:
Guided practice/Teaching practice in class
Theory and lectures
Discussion and feedback
10 hrs Home study in the form of reading and assignments prior to and during the course.
There is a teaching practicum for those requiring certification which concludes the course.
LEARN TO
Deepen & explore your own Yin Yoga practice
Create Yin Yoga sequences of various theme, focus and duration
Guide a group Yin Yoga class
Safely instruct & adjust a mixed ability class
Use props and adjustment safely and effectively
Create a safe & nurturing space for students
Create an appropriate atmosphere
TOPICS OVERVIEW
The Foundations of Yin Yoga
What is Yin Yoga?
The History of Yin Yoga
Yin Philosophy
Understanding Tao
What is Yin and Yang?
Yin and Yang Properties
Energetical Anatomy
The 12 main Meridians Overview
The 7 Main Chakras
Functional Anatomy
Skeletal System
Joints
Tension V's Compression
Connective Tissue
Fascia
Teaching Methodology
Adjustments & Using Props
25 Yin Yoga poses
Yin Yoga Sequencingv
Relaxation Techniques
Pranayama
INCLUDED IN YOUR TRAINING
Yin Yoga Manual
Daily Yin Yoga session
YACEP 100-hour Certification
Daily Meditation/Yoga Nidra
Yin Yoga Workshops
Accommodation & food (choose your package)
Yoga gift pack
7 nights stay at our centre in Bhagsu, Dharamshala
Vegetarian Indian meals throughout your stay
Herbal Tea & Water.
Snacks
Bed linen
Pickup from Kangra airport
YOUR DAILY SCHEDULE
07.00 AM – 9:00 AM: Yin Yoga session
09.00 AM – 10.00 AM: Breakfast Time
10.00 AM – 01.00 PM: Theory Sessions
01.00 PM – 02.45 PM: Lunch Break &self-study
02.45 PM – 03.45 PM: Art of Teaching theory/ student teaching practice
04.00 PM – 05.45 PM: workshop
06.00 PM – 07.00 PM: Meditation or Breathing Techniques
*Schedule is subject to changes
Our Teachers:
On our Yin Yoga Training in Dharamshala has a fantastic teaching team!
A blend of Eastern Spirituality and Western Teaching methods we present to you:
Amy Suzanne is a 500 hour Registered Yoga Teacher who specializes in training Yoga Teachers, Yin Yoga, Flow Yoga, Children's Yoga and Prenatal YOGA.
She has a background in education and blends this skill of delivering inspirational, accessible yoga classes with her life long passion for all that yoga represents.
She is a Yin Yoga enthusiast who Loves to play with the balance of Yin & Yang in her classes.
In her Yoga classes you can expect to find an exploration of the self through flowing movement meditation, attention to alignment with moments of stillness and introspection that leave you feeling re-freshed, re-energised and re-connected.
Indian Guru Mahi is renowned as a yoga teacher and spiritual leader who has a style of teaching that is entirely his own. He is Owner and Founder of Mahi Yoga School, a world class yoga teacher training institute in India, that have trained over 2000 Yoga Teachers. He has Over 20 years Teaching experience and trained with such Yoga Gurus as Iyengar, Pattabhi Jois and others.
In His asana and philosophy classes Mahi teaches a combination of pure Vedic knowledge, intuitive postural alignment and hands on adjustment which creates a harmonious balance that helps to prevent and alleviate ailments and injuries specific to each individual practitioner.
The centre for Yin Yoga training in India:
The Yin Yoga Teacher Training in Dharamshala, is held at our lovely centre located in the small hillside town of Bhagsu.
Our centre looks out onto a sea of green pine trees in the valley below leading down to Dharamshala. From the Yoga shala you can see this breathtaking view and we are often able to see the native wildlife such as eagles and monkeys playing below the balcony.
The Yoga shala easily holds 15 Yogis very comfortably.
Yoga props of every kind: matts, belts, blocks, mediation cushions, bolsters, blankets and chairs.
Accommodation:
All accommodation is situated in the next building to our Yoga shala and all rooms are within 5 minutes walk.
Rooms are clean and spacious, but simple with bed linen provided.
We expect students to keep their own room tidy and clean as part of a karma yoga program. Cleaning by a maid and fresh linen is done once per week.
At yin yoga teacher training in Europe there are multiple room options to choose from:
Twin share room: 2 people share this room. There are 2 single beds, private bathroom with hot shower, wash basin and toilet. You may book this room with a friend. Or be partnered with another participant.
Single occupancy of a double room: This is a private room with a large double bed. private bathroom with hot shower, wash basin and toilet.
Couple occupancy of a double room: This is a private room with a large double bed. private bathroom with hot shower, wash basin and toilet.
We are able to provide rooms with a small kitchenette at an extra cost subject to availability.
Explore on Yin Yoga Teacher Training India:
The wider Dharamshala region holds a number of exciting cultural and natural attractions.
The mystical Himalayan mountains set a breathtaking backdrop and can be explored on foot or by car. Some short few hour hikes can be done in the area without a guide whereas for the seasoned hiker there are trails that can be taken over the course of a few days with an organised tour. We can help you arrange this if you wish.
The Tibetan settlement of Mcleeod Ganj is just a short 20 minute walk away. It is a small busling town with tons of character and an atmosphere of stepping into another world of buddhist monks, prayer flags, Tibetan architecture, culinary delights and lots of interesting handicarafts. You can visit the Dalai lamas temple here or chat with a monk in one of the many cafes. You can also attend a talk with the Dalai Lama if he is in residence.
Further down the mountain there is the city of Dharamshala with its bustling Indian markets, beautiful nature, Hindu temples and Buddhist monasteries. It is a real melting pot of culture here and the locals are very welcoming.
We can help you arrange a sightseeing tour if you wish.
Food:
Food is fresh and prepared by our chefs. The menu is totally vegetarian with Vegans and other dietary requirements catered for on request.
We provide breakfast, lunch and dinner with water, tea and snacks.
The breakfast is buffet style with oats, fresh fruit, yogurt or Indian Parantha and pickle. At lunch we offer a fresh salad with rice or chapati and Indian vegetable main dish.
The evening meal is salad, rice or chapati and main course.
We can arrange extra for you at an extra charge:
Sight seeing
Airport Drop Off
What is Not Included:
Airport Drop Off
Visa
Flight tickets
WHO IS THE YIN YOGA TEACHER TRAINING SUITABLE FOR?
Our Yin Yoga Teacher Training is designed for practitioners of Yoga who want to experience the rejuvenating effects of this quiet softer Yoga practice, whilst also gaining a thorough understanding of the theory behind the Yin Yoga practice.
This training is open to both practitioners of Yoga and qualified Yoga Teachers.
Experienced yogis and beginners alike will gain a lot from the knowledge this course delivers. But we do recommend that applicants have a minimum of 6 months practice before the start of the course and that they are physically fit, so that they are prepared.
All applications will be considered on an individual basis. If you are unsure about anything at all please feel free to contact us directly.
IS THE YIN YOGA TEACHER TRAINING ACCREDITED?
Our 100 hour Yin Yoga Teacher Training is accredited with Yoga Alliance. This certification is valid worldwide.
On successful completion of the Yin Yoga Teacher Training course; we award already qualified Yoga Teachers a Certification in Yin Yoga Teaching from Mahi Yoga. These hours count as CPD points towards their Continued Professional Teacher Development with Yoga Alliance.
For unqualified Yoga Practitioners. We offer a Certificate of Completion in Yin Yoga Teacher Training from Mahi Yoga.
This Yin Yoga Teacher Training Course can also be taken as a module of 50 hours, which will count as part of our 300- or 500-hour Yoga Teacher Training courses. This must be booked as part of the 300hour course, contact us directly for more information.
Promotions / Early Bird Offer:
BOOK BEFORE 28 February 2020 and receive a 150-euro discount!
Getting There:
The Yin Yoga training is located at Bhagsu, Mcleod Ganj, Dharamshala, India. The nearest domestic airport is Kangra, the nearest International airport is Delhi. From Delhi you can either take an over night bus to Dharamshala or we generally recommend taking a flight to Kangra airport which takes less than 2 hour. We provide airport pickup from Kangra airport on arrival.
Booking link:
https://mahiyoga.com/registration/
YIN Yoga Course at Our Other Locations
Upcoming 50 hours Retreat Style Yin Yoga Teacher Training in Granada Spain
Dates
Twin Sharing
Private
Couple
Triple Sharing
Suite With Bathtub (Single)
Suite With Bathtub (Double)
Apply Now
23-28th August 2020
1000 EURO
Per Person
1160 EURO
2000 EURO
2400 EURO
for 3 People
Group Booking Only
1400 EURO
2300 EURO
Appy Now
Read More aboout our Yin Yoga Teacher Training in Granda, Spain
Upcoming 100 Hours YIN Yoga Teacher Training In Goa India
| Dates | Twin Sharing | PRIVATE | Apply Now |
| --- | --- | --- | --- |
| 2 Jan -26 Jan 2020 | 950 EURO | 1200 EURO | Appy Now |
| 2 Mar – 25 Mar 2020 | 950 EURO | 1200 EURO | Appy Now |
| 1 Apr -24 Apr 2020 | 950 EURO | 1200 EURO | Appy Now |
Read More aboout our Yin Yoga Teacher Training in Goa, India
YIN Yoga Teacher Training In Dharamshala, India