Yoga Teacher Training Dharamsala
Yoga Teacher Training Dharamsala is an opportunity to switch off from the fast-paced material world and really immerse yourself into the pure science of yoga free from distraction. In Dharamshala, you will be able to deepen your yoga practice or hone your teaching skills surrounded by peace and breathtaking nature. Here you will find it easy to tap into your higher-self, supported by the ancient history and mysticism of yoga that has been imprinted deeply in the lands of the mystic Himalayan Mountains, by the many yogi sages that past before.
About Dharamshala
Dharamshala is a quiet little town found nestled in the foothills of the Himalayan mountain range. The Kangra valley in which Dharamsala is located, hosts rolling hills full of lush green tea bushes belonging to vast plantations. Areas of jungle and small Indian villages are interspersed with Hindu temples and the air holds a sense of spirituality and mysticism from ancient times.
200 Hours Multistyle Yoga Teacher Training In Dharamshala
Read More at 200 Hours Multistyle Yoga Teacher Training In Dharamshala
300 Hours Advance Multistyle Yoga Teacher Training In Dharamshala
| Dates | Private Room | Apply Now |
| --- | --- | --- |
| 10 May to 06 June 2021 | 90000 INR | Apply Now |
| 5 July to 02 Aug 2021 | 90000 INR | Apply Now |
| 1 Oct to 31 Oct 2021 | 90000 INR | Apply Now |
Read More at 300 Hours Advance Multistyle Yoga Teacher Training In Dharamshala
100 Hours Multistyle Yoga Teacher Training In Dharamshala
| Dates | Twin Sharing | Private | Apply Now |
| --- | --- | --- | --- |
| 7 April To 18 April 2021 | 900 USD | 500 USD | Apply Now |
| 5 May to 16 May 2021 | 900 USD | 500 USD | Apply Now |
| 3 June to 14 June 2021 | 900 USD | 500 USD | Apply Now |
| 4 July to 15 July 2020 | 900 USD | 500 USD | Apply Now |
| 4 Aug to 15 Aug 2021 | 900 USD | 500 USD | Apply Now |
| 5 Sept to 16 Sept 2021 | 900 USD | 500 USD | Apply Now |
Read More at 100 Hours Multistyle Yoga Teacher Training In Dharamshala
Yoga Teacher Trainings in Dharamshala
Yoga Teacher Trainings in Goa
Tibetan settlement Mcleod Ganj
Following the winding roads up for just twenty minutes you will enter the Tibetan settlement of Mcleod Ganj. Colourful Tibetan flags hang from the edges old-world buildings. This quaint and characterful town is a bustle of Hawkers selling the famous Tibetan snack 'Momos', Tibetan cafes, coffee shops, book shops and markets selling curiosities and Tibetan arts. The town of Macleod Ganj grew up after His Holiness the Dalai Lama made it his residence. Even the Tibetan Government in Exile has its headquarters here. The Temple Tsuglagkhang or the 'Dalai Lama' Temple is central in the town, many Tibetan people sit on the floor praying with their prayer beads and prayer wheels. Outside the temple has peaceful gardens where you can follow the winding pathways turning the many prayer wheels inscribed with Tibetan mantra. The Dalai Lama gives teachings on different subjects here at various times during the year and it is possible to attend and listen.
There are many different activity centers and Tibetan charities in the town where you might wish to sit and chat with a Tibetan monk so they can improve their English or attend a film screening or fundraising event.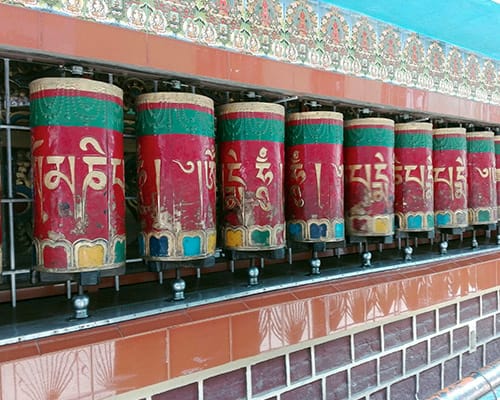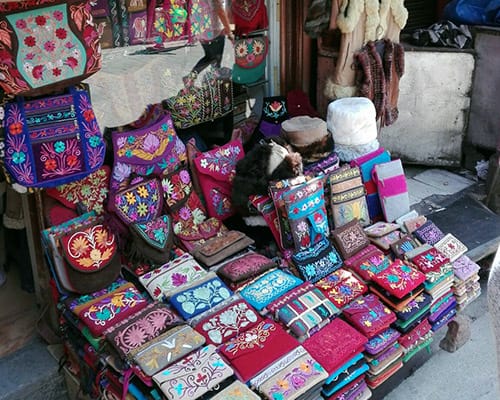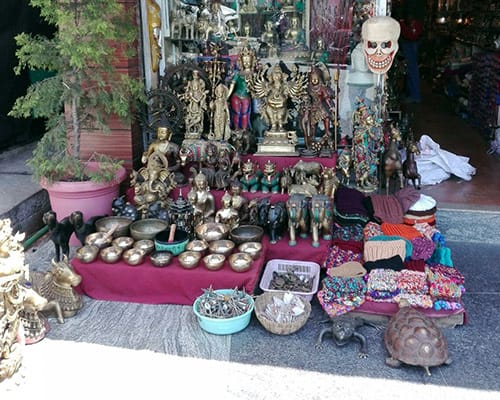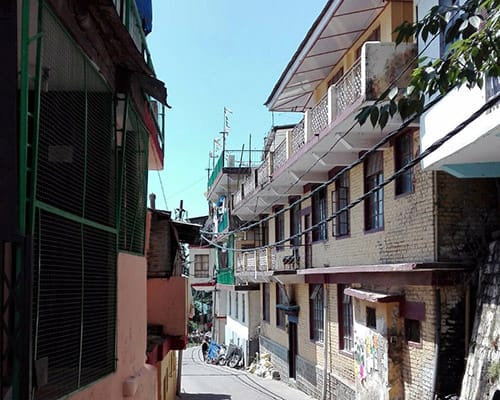 Bhagsu Village
Another few minutes, along mountain roads fringed with tall emerald green pine trees and views of Snowy Mountain peaks in the distance, you will find the small village of Bhagsu. This is where our Shala or Yoga studio is located at our Yoga Teacher Training Dharamshala location.
Bhagsu has a sleepy laid back atmosphere. People here are friendly and the streets are lined with little coffee shops, bakeries, international restaurants, local Indian chai shops and various handicraft stores. Just behind the little main street a Waterfalls descends the length of the town, ending in a river below. There are steps from top to bottom starting at the local Hindu temple with its own swimming pools and winding up at its top to Shiva Café a cute, bohemian slate built café with breathtaking views of the valley and mountains. From up here it's common to see eagles swooping amongst the prayer flags and clouds. Finally the paths narrow and branch of into the quieter trekking paths that lead up to remote villages and the famous mountain peak view of Triund. It is possible to camp up at the peak and take guided treks even further into the snowcapped Himalayas.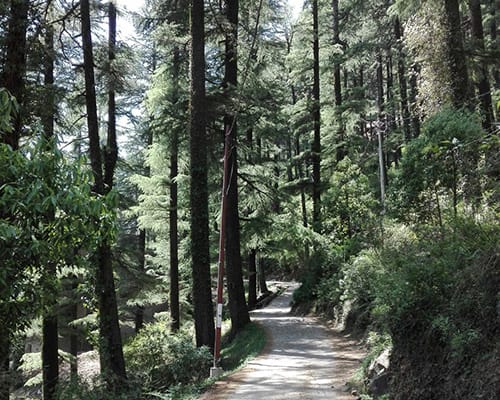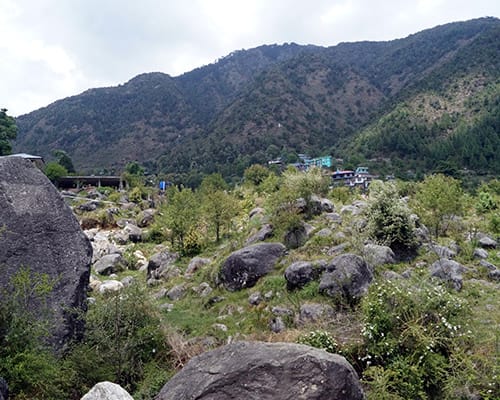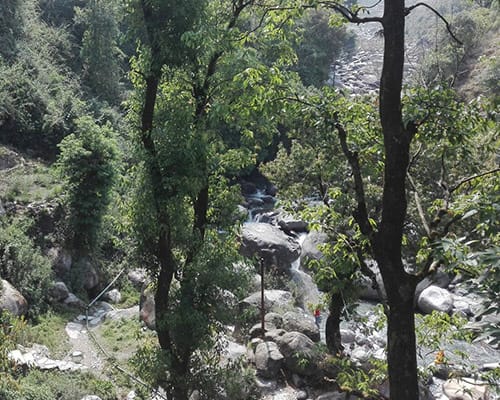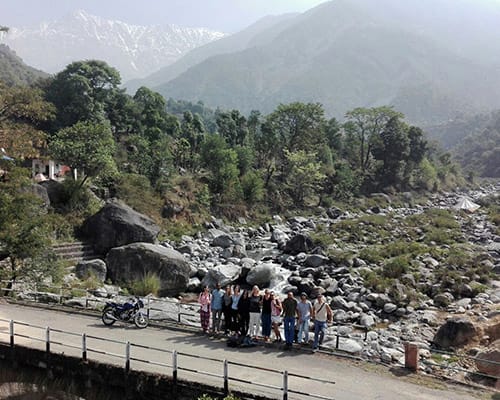 Yoga Teacher Training Dharamshala Activities
At Yoga Teacher Training Dharamshala, locals and visitors alike aim to preserve the pristine nature here and there are many charities such as 'The Waste Warriors' where you can volunteer and help out. Besides trekking and relaxing drinking chai, Bhagsu has many interesting courses and famous yoga or meditation schools to offer as well as courses in Reiki, dancing, singing and learning traditional Indian instruments. Most worthy to mention is the world famous Vipasana center 'Tushita' located 20 minutes' walk through the pine trees to Dharamkok village. A wonderful retreat in nature, the residents here hold daily drop in meditations as well as longer retreats and film screenings on the weekends. As well as courses there are many therapy centers around the area. Most famous are the Ayurveda clinics such as Siby Ayurveda. Many people travel half way around the world in search of treatment in the form of the ancient Indian Ayurveda medicine, which is a holistic approach to medicine treating the whole person rather than any specific symptom. It is possible to find diagnosis with treatment, general wellbeing massage and PanchaKarma cleansing.
During our Yoga Teacher Training Dharamshala courses we aim to immerse our students in the culture and beauty of the area. We take students on a one day site seeing tour. On this wonderful outing we visit three temples and a monastery stopping for lunch at a local restaurant.
The first temple we visit on Yoga Teacher Training Dharamshala is Aghanjar Mahadev Temple, where Guru Mahi himself began his study on the yogic path. It is a Shiva temple dedicated to Lord Shiva the great blue yogi Hindu God. The atmosphere here is both beautiful and serene. Even the air carries a mystical freshness. It is a place where you can witness 'babas' carrying out daily rituals and take a walk to the sacred river which is said to have healing properties.
The second is place of interest is Norbulingka Institute a Tibetan institute and temple set up to educate Tibetans on a scholarship scheme in the fine arts and crafts on ancient Tibet. They aim to both help lift the education of Tibetans as well as keep their culture alive. Here you can watch traditional Tibetan art being created. Wonderfully intricate 'Tanka' paintings painted with real gold embellishment, metal sculptures and wooden carvings are all painstakingly crafted by hand. A guide will accompany you around the tranquil setting and explain the meanings and processes behind the art work.
The final stop on Yoga Teacher Training Dharamshala is the Gyuto Monastery a university for monks. The temple itself is a yellow and golden beacon that stands out against a backdrop of snow topped mountains. It really is a sight to behold. At certain times of the day the yellow hatted monks chant mantras from scriptures. The vibrations and energy in the air is something worth witnessing at least once in a lifetime. It is also possible to witness the monks performing their other duties like the creation of sand mandalas which are so detailed and patiently created only to be ritualistically dismantled on completion commenting on non- attachment and impermanence.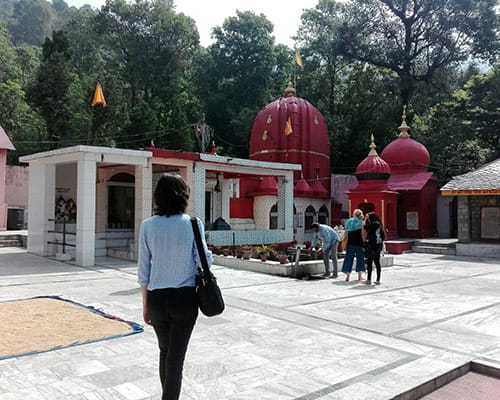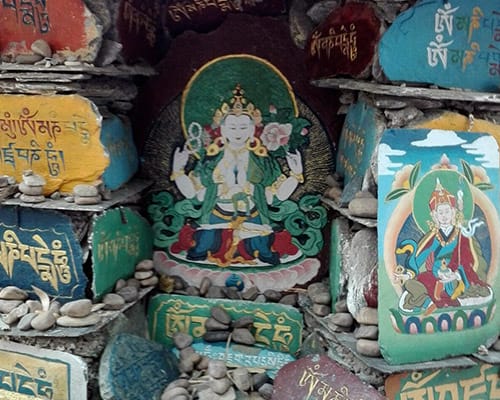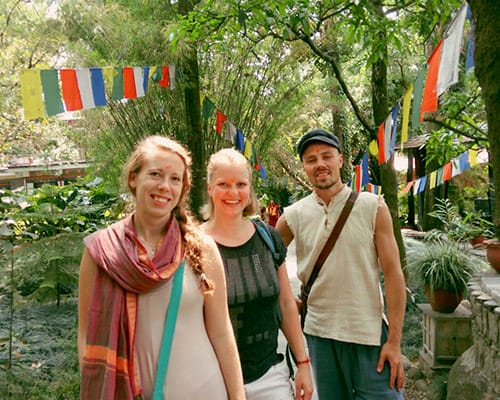 Mahi Yoga School Dharamshala
At Yoga Teacher Training Dharamshala we have 2 large and fully equipt yoga shala (studios). For our yoga teacher trainings we use the main Shala (studio). Which is on the main street in Bhagsu. Both studios are fitted out with all manner of yoga props, including incredible Iyengar style props and hanging belts. The main studio can hold 25-30 people with plenty of room. Both studios are quiet and peaceful and look out on the natural surroundings. There is also WIFI available in the main shala. The dining hall and relaxing area are also located here, for students to relax, chat or study.
Mahi Yoga has its own cafeteria only for the use of students and teachers. Our food is exceptionally hygienic. Our Chefs prepare Indian, vegetarian yogic meals. All meals are nutritionally designed to provide our students with all their body needs as well as instill healthy eating habits. Food is served on site in the dining area at our main shala at Yoga Teacher Training Dharamshala.
Yoga Teacher Training Dharamshala rooms are spacious and comfortable. The rooms are clean and simple in design, installed with double bed and hot shower. All rooms are within 5 minutes walking distance from the main studio.
Within 2-5 minutes' walk there are many local shops where aspirants can buy snacks, fruits, vegetables, natural foods, Ayurveda herbs and other all essential items. There are several internet cafes and travel service providers who can help to exchange foreign money or offer you cash on swiping your credit card.
There are many ATMs nearby Bhagsu, at a distance of 2KMs from the center where you can use any foreign debit or credit card.
There are ample of scooters, motor bikes, rickshaws and taxis available for rental. Students can walk to McLeod Ganj within 15 minutes. It is a very safe area and students don't experience any hassle, but may choose to travel by rickshaw or taxi as it is convenient.