Alignment & Yoga as a Tool for Health Yoga Teacher
Hands on Adjustment Specialist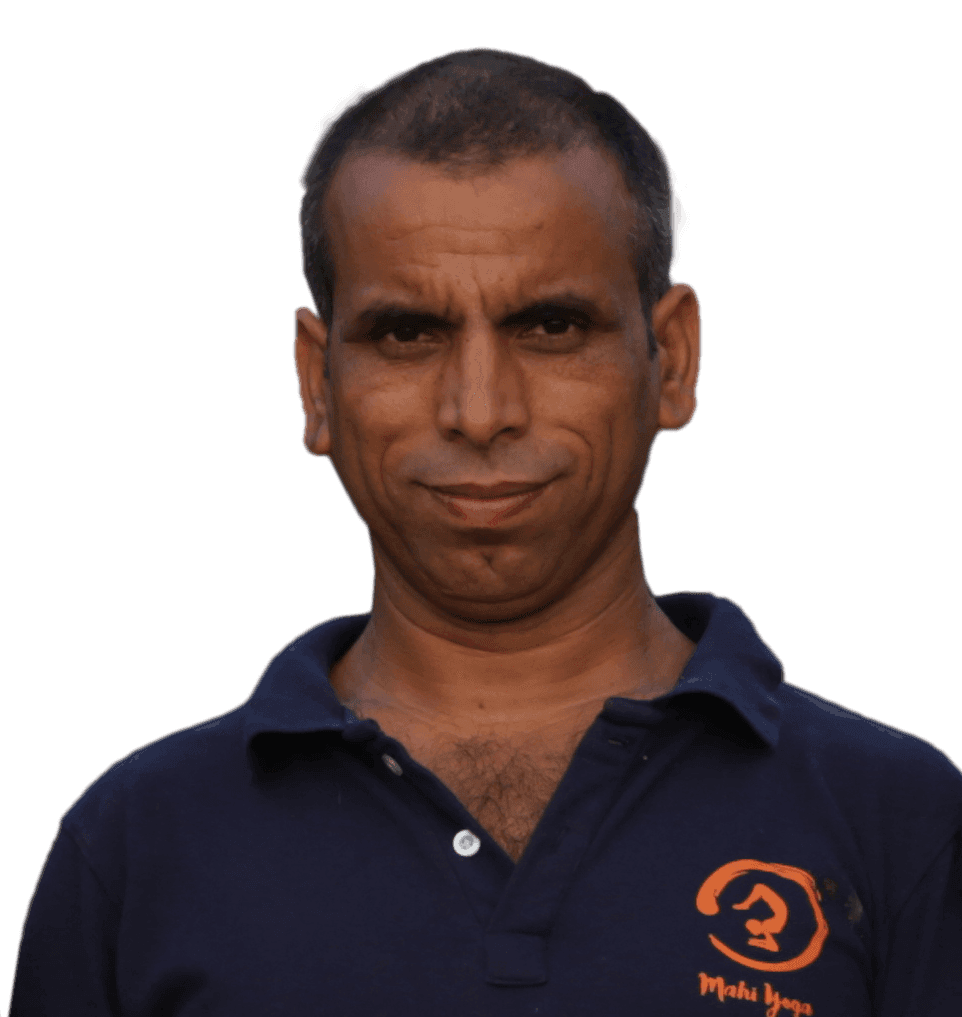 From an early age Guru Mahi was introduced to yoga. His whole family followed the yogic principles practicing pranayama and meditation. Sri Ramana Maharishi a renowned Indian Yogi Master was his father's teacher, and Mahi's father endeavored to pass on the precious yogic knowledge imparted to him to his young son. Mahi naturally began to pursue a life of spiritual seeking.
Coming of age Mahi began to seek to continue his education on the yogic path, he travelled India practicing and learning from renowned Guru's such as Jois in Mysore, on discovering Iyengar yoga Mahi began to develop his signature approach and interest in the healing quality of yoga, mostly concentrating on alignment and anatomy.
Mahi is renowned as a yoga teacher who has a style of teaching that is entirely his own. He teaches a combination of pure Vedic knowledge, intuitive alignment and hands on adjustment which creates a harmonious balance that helps to prevent and alleviate ailments and injuries specific to each individual practitioner.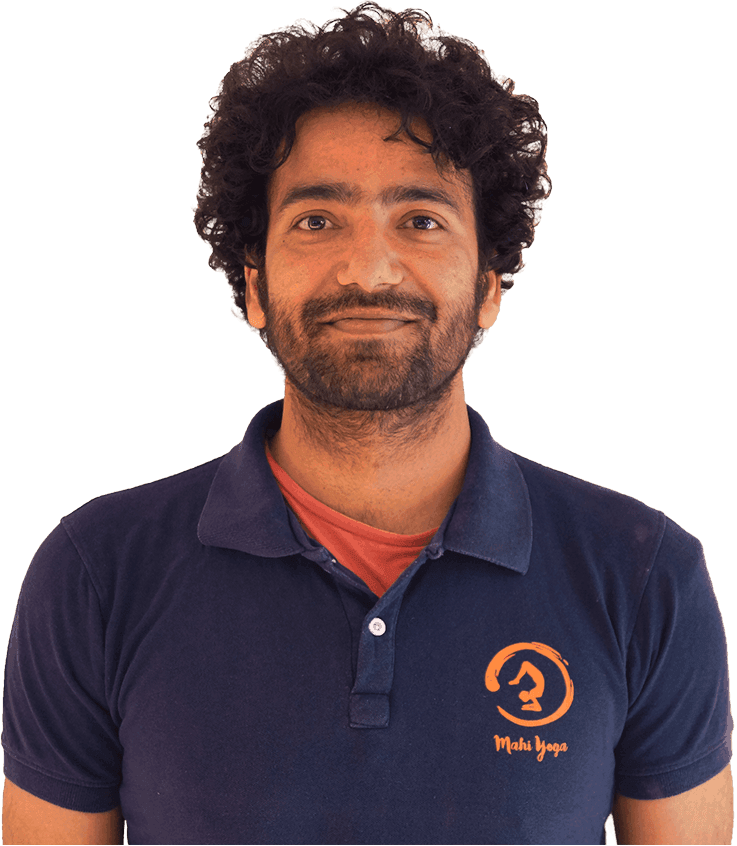 Art of Teaching Instructor
Devvrat comes from a traditional Indian family and began his yoga journey in his early childhood. He received education and guidance in both modern science and yogic philosophy. Leading to him to pursue a career in the corporate engineering field. However this materialistic world did not fulfil his expectations and Devvrat eventually felt compelled to explore his yogic roots further.
Eventually Devvrat quit his corporate life and devoted himself entirely to pursuing the science of yoga. He spent time learning from different teachers and curious to understand more about the therapeutic effect of asana, finally completed 500 hr. yoga teacher training with Guru Mahi in Dharamshala.
In his spare time Devvrat is pursuing a Master of Science in Yoga Therapy at SVYASA Yoga University Bangalore.
Devvrat combines a deep knowledge of yogic science and practical yogic philosophy with a real world approach, gained from his experience in the corporate world. He specializes in delivering this knowledge through the Ashtanga Vinyasa method as taught by Pattabhi Jois and regularly practices at KPJAY in Mysore.
Assistant Ashtanga Teacher
Vinyasa & Hatha Yoga Teacher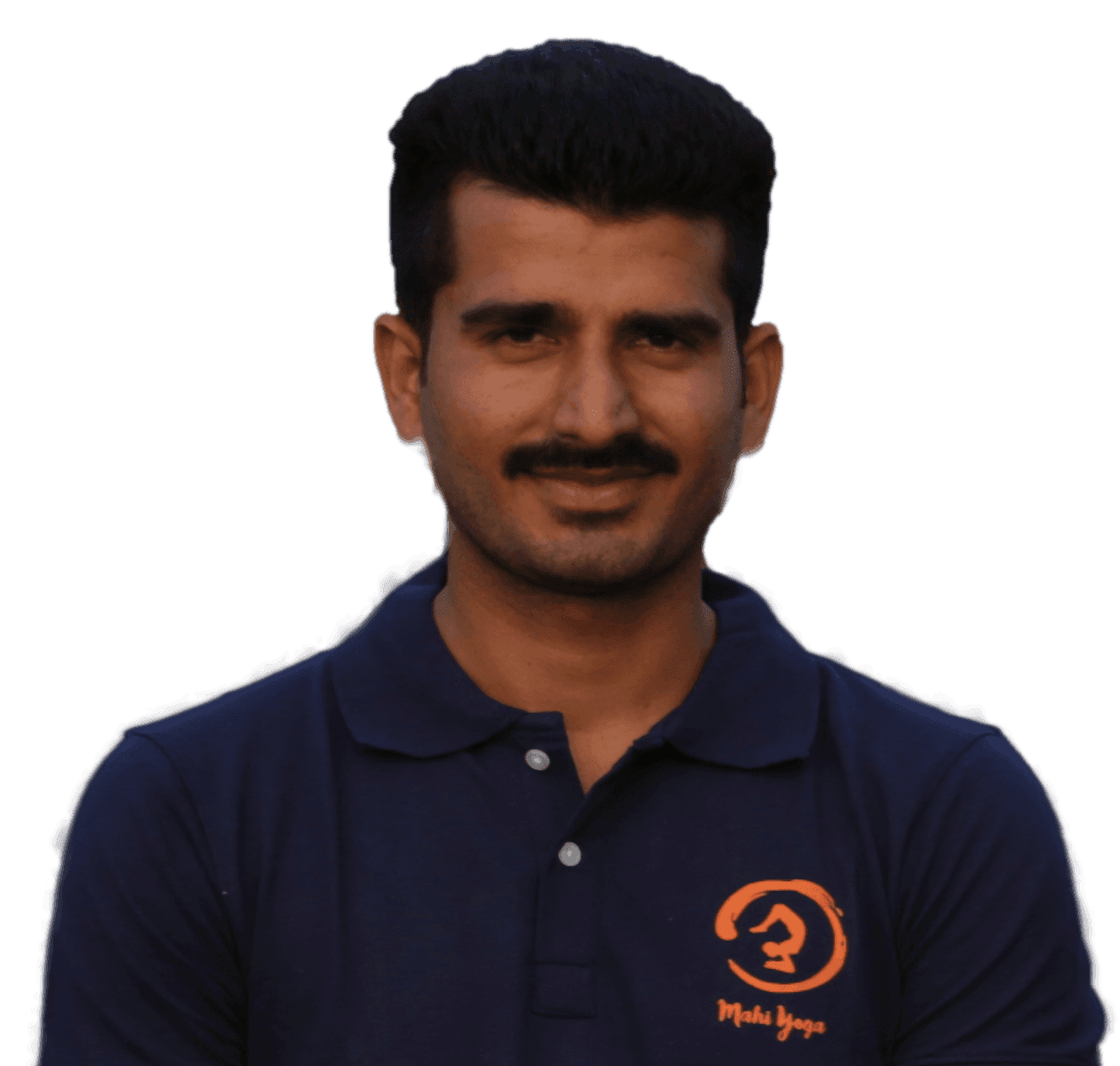 Nachatter grew up in Northern India. He has a history of traditional sports which he enjoys pursuing. He came to the practice of yoga as a medium to complement and balance the effects of some of his other sporting activities. He found himself at Guru Mahi's training center. Nachatter found a deeper connection to yoga practices than he expected especially Ashtanga yoga. He decided to pursue the yoga path further and now assist at the Mahi Yoga School. Students enjoy his support and adjustments in class as well as his wonderfully positive attitude.
Assistant Ashtanga Teacher
Hatha & Vinyasa Yoga Teacher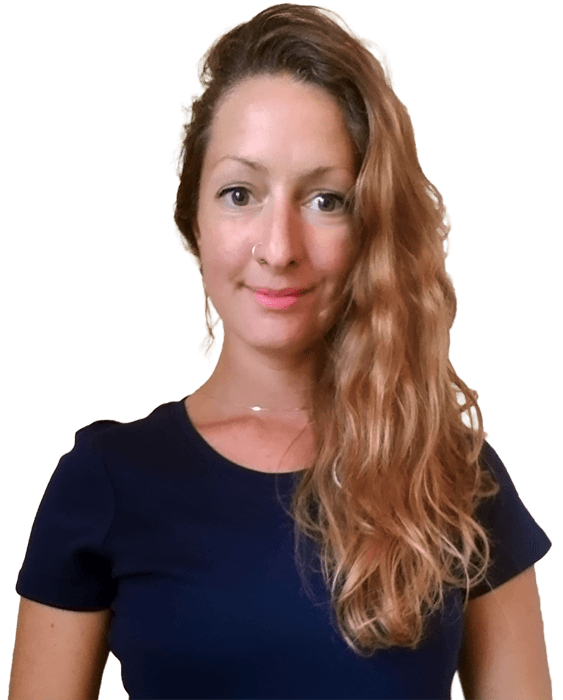 Jane is a dedicated student of yoga she describes herself as passionate, creative and a dedicated self-starter with 8 years of training, teaching and studying yoga internationally.
Her devotion to her practice allows her to work with integrity and she prides herself on her kind and compassionate nature which allows her students to feel supported and gain confidence in their practice. Jane is based in Cornwall U.K. where she teaches SUP yoga, kids yoga and Hatha/Vinyasa classes that combine elements of philosophy chakra yoga, meditation and even dance. Most recently Jane has put her skills to running Bhakti Yoga festivals to raise money for charities in the ethos 'Yoga Gives Back'
Hatha, Ashtanga, Vinyasa & Therapeutic Yoga Teacher
Art of Teaching Instructor
Bjoern found his love of movement using his body as a tool for expression through dance. After a career as a dancer Bjoern found yoga as a means for recovery for mental and physical balance. He felt compelled to share his love of the healing benefits of yoga.
Bjoern completed his 500hr Yoga Teacher Training with Guru Mahi in 2013 and has gone on to work internationally as a teacher trainer as well as opening his own yoga school BYOGADK which provides workshops and classes in Denmark.
Bjoern's classes are a combination of his deep love of movement and dance and the essential elements of alignment that provide the body a safe means to explore and heal both the inner and outer self.
IYN Registered Children's Yoga Teacher
Hatha, Vinyasa, Aerial & Yin Yoga Teacher
Pre- natal Yoga Teacher
Art of Teaching instructor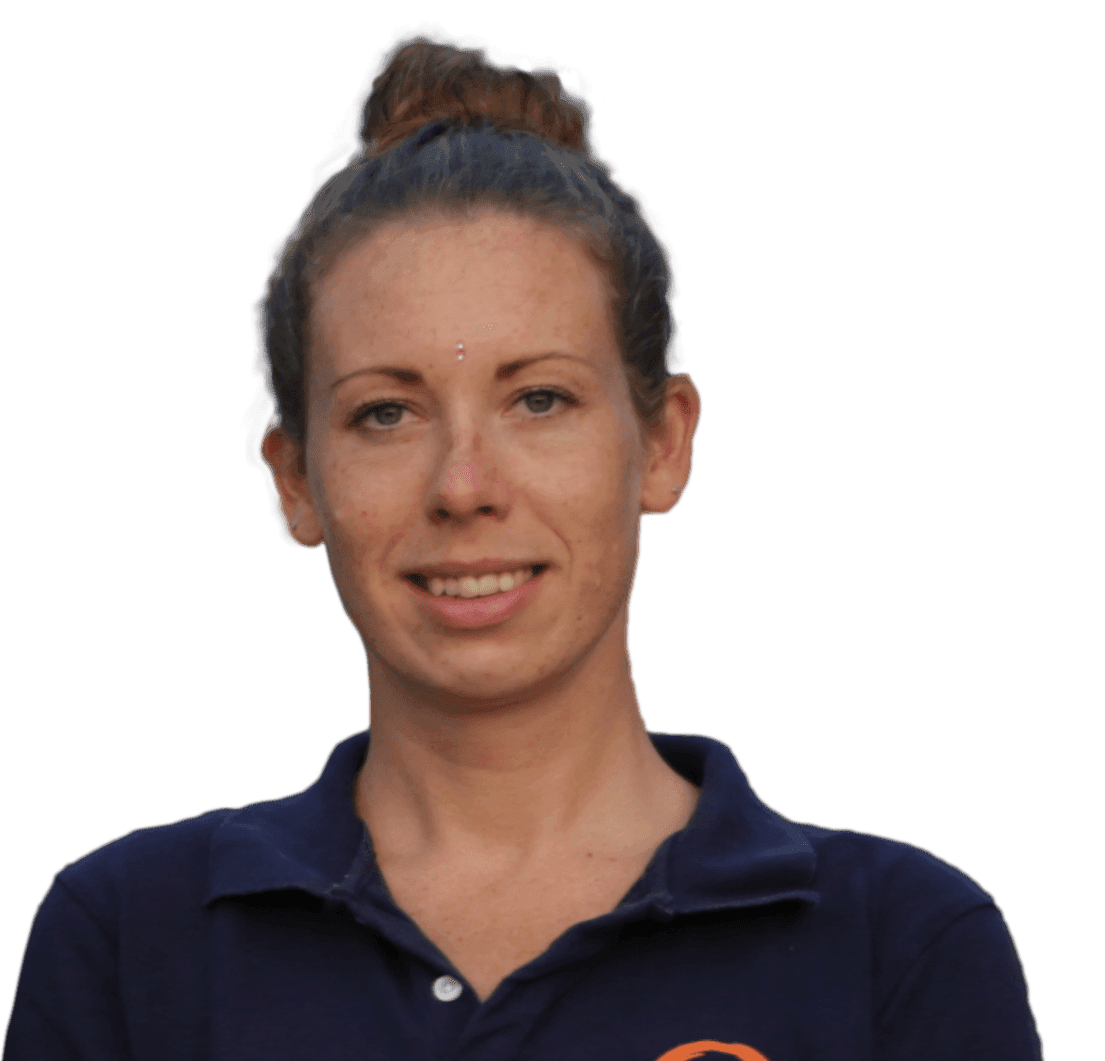 Amy's love for yoga developed because of her Mothers influence when she enrolled her on a yoga course in her teen years. This special seed of yoga grew to fruition as her practice grew, and she found an inner peace and self-confidence that she felt compelled to share.
Whilst working as a primary school teacher she began to share her yogic knowledge. Through her fun and dynamic kids yoga classes which combine the medium of storytelling with mindfulness techniques and asana. She understands every child's unique character and aims to create a safe and harmonious environment for children to share and grow together.
Amy eventually felt compelled to immerse herself into the ancient practice of yoga completely. Completing 500 hrs. yoga training in India with Guru Mahi.  After completion she returned to the U.K. completely transformed and started to teach hot Vinyasa flow yoga for the British fitness franchise 'Hot Pod Yoga'. In 2017 Amy found a new depth and desire to both return to India to pursue the yogic path and share her knowledge. Under Mahi's careful guidance she began to guide new yogis on their journey to Yoga Teacher in the international setting. Her classes combine the meditative qualities of movement with introspective moments that allow students to access their own inner guide and find yoga healing aspect. She aims to have her students leave her classes feeling calm and connected with access to their inner confidence ready to empower their lives.
Therapeutic Hatha Yoga Teacher
Yogi Akshay descends from a North Indian family, who instructed him to practice yoga from early age. Akshay carried his love of yoga with him, but it was only after graduating and securing a high level job in commerce that his practice became more and more important. Akshay began to deepen his practice to create some life balance from the stress found in the corporate world.
As his practice became central to his life he felt a calling to share his passion and he began to seek out Gurus and teachers throughout India. His journey took him to study philosophy and asana with monks in various ashrams and eventually he left the corporate world behind to take up yoga teaching. During a life-long self-practice and over 7 years of teaching Akshay has honed a teaching style which is strict and emphasis's the essential importance of bio-mechanics (the subtle movements of body parts) and a real life approach to philosophy.
Akshay brings this teaching style into his theory classes are practical in nature. In his approach he aims for students to experience a firsthand the physical and physiological impact of yoga asana. Not only the physical muscles are explained but also the subtle energy of Prana which he believes also has to be guided in yoga Asanas. He teaches the techniques and proper application of bandhas to facilitate this movement which can be felt in yoga asana.
Akshay believes in the union, yoga can create, through awareness which can be brought about by walking the ancient and sacred path that the old seers described in the yogic scriptures.
RYT 200
Hatha, Vinyasa Flow, Ashtanga Yoga Teacher
After suffering one too many joint injuries through training with weights and mixed martial arts, Michael listened to the wisdom of his sister, a veteran yoga instructor in California, and began on his journey into the physical realm of yoga asana. As he dove deeper into his practice his curiosity led him to experiment in Los Angeles with various styles of asana, pranayama and meditation. He greatly attributes yoga for giving him the courage to ultimately leave his traditional Western corporate life to pursue his lifelong passion in the health and wellness industry. Michael loves combining his background in fitness and nutrition with the holistic approach that yoga offers, offering his students a blend between the best practices of both hemispheres. Aside from Hatha and Vinyasa classes, Michael's background as a fitness coach gave him a firm foundation to integrate with yoga as an Anatomy teacher. His main focus during class is the understanding of yoga asana's various affects on the musculoskeletal, physiological, and pranic aspects of the body. According to him, striving to attain deep understanding and perfection in an asana is a great path to lead the intellect to reconnect to the Self. When Michael completed his training with Guru Mahi in Dharamshala he joined the amazing team of teachers and continues to tend to his regular self-practice of Vinyasa/Ashtanga yoga and calisthenics on a daily basis. In addition to teaching yoga and fitness/nutrition, Michael holds a B.S. in Hospitality Management from Cal Poly Pomona and  is also a professional Scuba Divemaster who considers himself an avid marine enthusiast!
Yin Yoga & Vinyasa Flow Yoga Teacher
Art of Teaching Guide
Bryan grew up in West Covina, California where he fell in love for human movement at a young age. His love for yoga came about midway through college after seeing how much it had impacted his sister's life. Beginning his yoga journey with hot yoga, vinyasa, and astanga at local yoga studios throughout his hometown, Bryan knew he wanted to understand the true meaning of yoga. Eventually, his curiosity to deepen his practice led him to Dharmsala, India where he became a certified yoga instructor under Guru Mahi.
With a bachelors degree in Exercise Science and numerous fitness certifications Bryan has incorporated his knowledge of the human body within his asana practice. Specializing in Vinyasa and Yin styles he pays close attention to detail when it comes to alignment in asanas. Excited to be a part of the teacher training team Bryan bring an undeniable positive energy when he teaches yoga. His main goal is to help his students understand yoga as a tool for healing through its therapeutic aspects. In addition he brings a number of other services to the table such as movement analysis screenings and myo-facial release techniques. Outside of practicing yoga Bryan enjoys outdoor sports like surfing and rock climbing and has studied multiple disciplines in Martial Arts,  eventually leading him to receive his 3rd degree black belt.