300 Hour Yoga Teacher Training  Dharamshala
In the creation of our 300 Hour Yoga Teacher Training in Dharamshala syllabus we  have brought together ancient Vedic and yogic knowledge with the modern practices of science and teaching methodology in order to send our students out in to the world secure in their yogic journey as well as confident and ready to teach.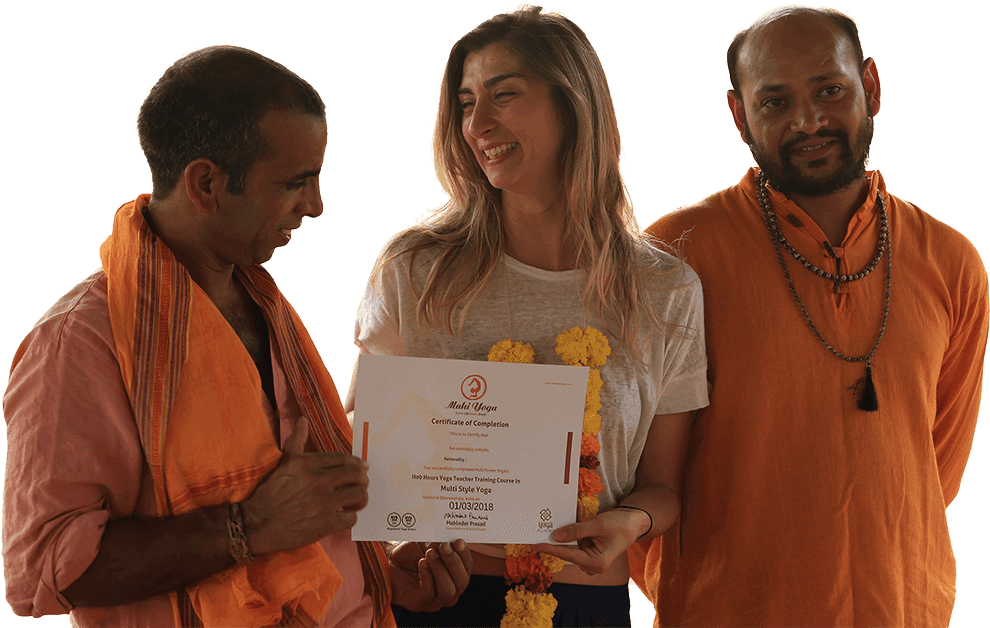 At Mahi Yoga we provide 300 Hour Yoga Teacher Training Dharamshala. A prerequisite to join our 300hr advanced yoga teacher training is that the applicant must have completed, successfully, recognized 200hr yoga training, this may be with Mahi Yoga or another recognized school. After completion of the 300hr training the student will be qualified as a 500hr Registered Yoga Teacher.
About 300 Hour Yoga Teacher Training at Mahi Yoga
Our carefully designed Multistyle Yoga course provides training in three main styles of yoga: Hatha (including traditional and therapeutic), Ashtanga Vinyasa, and Vinyasa Yoga. All our courses are certified by Yoga Alliance, USA.
In our 200hour yoga course we lay the foundations of yoga knowledge, and teaching techniques, while our 300-hour advanced course aims to build and perfect that knowledge even further. The course will hone your skills as a practitioner and a teacher. We aim for students to leave being able to instruct all levels of practitioner effectively whilst giving deeper instruction on both the subtle and physical aspects of yoga.
The 300 Hour Yoga Teacher Training in Dharamshala focuses on advanced teaching techniques, intelligent sequencing and the therapeutics or benefits of yoga asana. Emphasis on hands on adjustment, use of props and subtle yoga anatomy are key to the course's success in building confident teachers. We deliver this knowledge by weaving together theory, physical practice and the subtler introspective aspects such as meditation in order to provide our students with a holistic yoga experience. We believe in learning through experience and therefore our courses are highly practical and experiential.
Even though these courses are aimed at prospective teachers, and we teach in detail how to teach, all of the knowledge learnt can be applied to the individual practitioner. Therefore we recommend the 300 Hour Yoga Teacher Training in Dharamshala for practitioners who want to deepen their practice as well as those who wish to teach.
The 300 hour yoga teacher training Dharamshala is an intense course that is a total yoga immersion where you can expect to experience many positive changes. It lifts a yoga teacher's understanding and technique to another level. Students often comment on the wonderful changes the course brings to their life.
300 Hours Yoga Teacher Training In Dharamshala
| Dates | Course | SINGLE | COUPLE | Apply Now |
| --- | --- | --- | --- | --- |
| 15 Nov 2019 to 15 Dec 2019 | 300 Hours | 2300 USD | 4500 USD | Appy Now |
| 15 Jan 2020 to 14 Feb 2020 | 300 Hours | 2300 USD | 4500 USD | Appy Now |
Student testimonial
Hear from our student describing her experience with 300 hour yoga teacher training
Why Should You Choose the 300 Hour Yoga Teacher Training Course?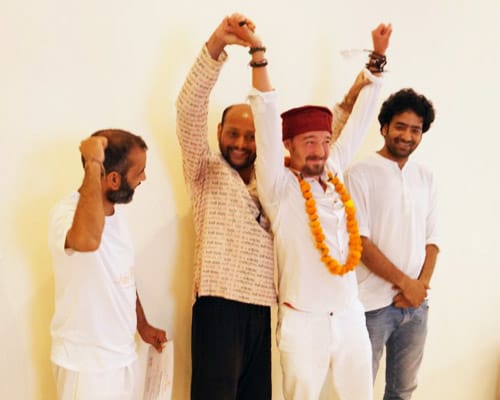 Life-Changing Experience
The 300 Hour Yoga Teacher Training is a 31 day intensive course during which you will deepen your knowledge, improve your practice, and experience many life changing moments.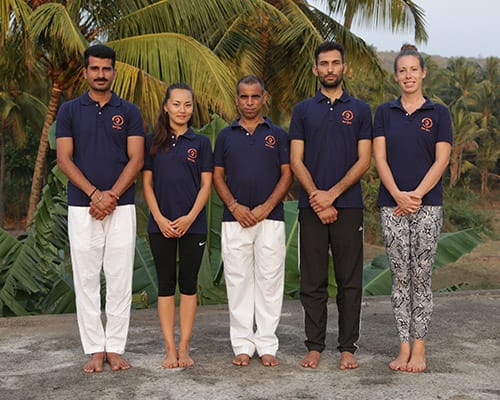 Certified Teachers
Our teachers are all incredibly knowledgeable and hold ERYT 500 hr, RYT 500 hr or ERYT 200 hr certificates from Yoga Alliance. We pride ourselves on the quality of teaching and content of our courses.
Renowned Destinations
Both Goa and Dharamshala have their own yogic charm and were chosen for their yogic atmosphere and connection to yoga roots. Our accommodation is at a high standard, with a vegetarian yogic food menu.
And that's not all!
As a gift we provide one yoga T-shirt, a yoga bag, and a yoga course manual. We also include a Kriya cleansing day and kit, and in Dharamshala also a field trip!
What will you get from the 300 Hour Yoga Teacher Training Course?
On successful completion of the 300 Hour Yoga Teacher Training students will have a new found depth of understanding and connection with all that is yoga. Students leave us more connected with their own practice and even more confident in their teaching abilities, especially with adjustment technique. Students often say they have a moment where everything falls into place. A resonant connection with their practice and a new found energy to share.
On successful completion of the 300 Hour Yoga Teacher Training in Dharamshala, students will receive a 300 hr Certificate from Mahi Yoga. This 300 hr certificate plus the 200hr previously completed makes the individual eligible to upgrade their yoga registration to 500 hr. This course is registered with the Government of India as well as Yoga alliance USA. This certification is valid worldwide. So, students are able to register with the appropriate Yoga association in their country of choice, such as Yoga Alliance.
How is the 300 Hour Yoga Teacher Training Course structured?
We cover 300 hours of training in 31 days of intensive courses. Each day begins at 6:30 am and ends at 7 pm Monday to Friday with half-day on Saturdays. Sundays are free.
Our syllabus covers the following topics:
A minimum of 130 hours of Yoga Asana Practice; Including clinic style asana, asana analysis, use of props, adjustments, etc

A minimum of 50 hours of Teaching practice

30 hours of yoga philosophy, lifestyle and ethics

20 hours of Meditation personal practice and teaching practice

A minimum of 20 hours of Pranayama personal practice and teaching practice

15 hours of Yoga anatomy

10 hours of Ayurveda Science for daily life and yoga according to Ayurveda

10 hours minimum of Teaching Methodology, including Yoga business

10 hours minimum of Teaching Practicum (Instructing)

Other yogic related practices
Apply for our Yoga Training in India
The sooner you apply, the more discount you get!